landlords - Dead Body Errr'day (Toto v Mims v Cali Swag)
landlords - Dead Body Errr'day
Toto - 'Africa'
Cali Swag District "Teach Me How To Dougie"
Mims "Like This"
The Postal Service - "Brand New Colony"
Jay-Z feat Rhianna - 'Umbrella'
Lil Wayne "stuntin like my daddy"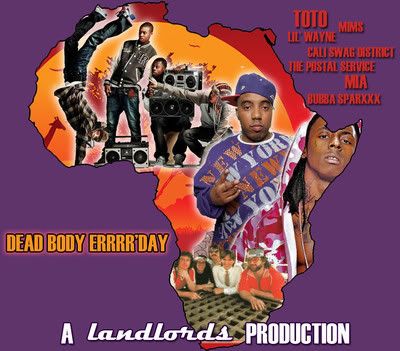 Download!!!
---
Posts: 4452
Joined: Fri Mar 19, 2010 7:21 am
Location: around here somewhere...I think..
Right then
I'm sure that you are going to disagree with most of what im about to say
but... let's start at the biginning, Mims and Toto are a nice combo, the vocal wanders around slighly (not to far off though) and you have managed to clip the end of the Mims vocal a bit. Bubba was nice... The Toto chorus seemed a bit fast (slight) the "Dougie" section was nice... then MIA came in and was out of key (sorry but it's important) then to be honest it all became a bit of a noise for a while the instrumental changed and was just clashing with everything... I have nothing to say about Lil Wayne (hate him). The other thing i was unsure about was that there wasnt a continual thread from start to finish so i would call this a minimix not a mashup
---
well come on now, don't hold back!

How is this not a mashup? Just because the beat changes and the mood shifts does not disqualify this from being a mashup.

Thanks for the feedback. Just because we disagree doesn't mean we can't be friends.
---
Posts: 4452
Joined: Fri Mar 19, 2010 7:21 am
Location: around here somewhere...I think..
landlordsparty wrote:Just because we disagree doesn't mean we can't be friends.
everything i say is to be constructive, and i did genuinely enjoy the Toto/Mims/Cali Swag District portion of your 'mashup'. and yes just because there is a tempo change doesn't stop it being a mashup... but by the end there were no elements that refered in any way to the start..so for me that's a minimix
---
the more I've thought about it, the more your standpoint makes sense, and hey, there is some slop in there. I have had a lower standard of acceptable nonsense, and kinda just cranked them out. Despite the flaws, they do still get crowds going wild.

I'm stoked to be a part of this, I want to refine my chops more than anything. I look forward to more.
---
Posts: 3336
Joined: Sat Jan 02, 2010 11:52 am
Location: London, England
Ha ..... You've discovered Mashstix.

Here, we give honest feedback to people, it's always constructive and never meant to be taken harshly. Remember - It's just an opinion, and if you disagree, thats fine. People who haven't experienced this, or have only had their mashups listened too by people that say something like 'nice joint' can sometimes be put out by the level of feedback here.

The reason we are different is we have a massive amount of club and radio DJs, music journalists and people who either are or consider themselves mashup professionals. Everything is meant to help each other improve and get that professional sound.

As long as you have the same goals, and are willing to take some knocks I promise you not only will you get the normal music listener jumping, you'll also get major attention and radio play (which if your doing live shows is all promotion right?).

So onto the track. I'm with Lloyd. But as a live mashup performer I can see where you are coming from and what your aim was. This is an American club mashup as opposed to something you would listen too at home. In the club you are going to care less about the details.

American audiences are also very different to the rest of the world (in terms of club music). So I can see a club jumping around to something like this.

As a musical piece it doesn't really have a structure, and is very much of the GirlTalk ilk. Rather than concentrate on the natural progressions of a track, it bounces along like a mega-mix type thing (which is what Lloyd was referring too).

I would think the balance for you guys (i think there are two of you?) is to make two very different styles of mashup. One for the club, and one for radio, home listening. Have a listen to some of the others on here and comment back. When people stick with one acapella or limit themselves in some way - it's not because they can't do something like this, it's just their aim is different.

Anyway welcome to Mashstix and get stuck in !
---
Yeah, there are two of us, and we're definitely making mashes for the shows... so it does make sense that we got lazy on some details. Onward and upward, I'm stoked to mix and mash this all together.
---
Posts: 5147
Joined: Mon Jan 11, 2010 6:24 pm
being an American thought I'd chime in here. Yes it's a minimash and yes I could easily see people bouncing hard to this on the dance floor. It's nicely done (other than the OOK part that Lloyd mentions) but that parts fairly brief so I doubt anyone would notice on the floor whilst drinking and dancing but as Dylan points out in the mashstix studio it's going to be pointed out
You're minimix reminds me of back in the 80's when we'd get as many TT's together as we could in a mixer and try to do some live minimixes throwing in whatever came to mind and felt right for the vibe of the dancing crowd that night. You've captured that energy well. Although I think throwing a few samples of Flava Flave in there would have spiced it up a bit more
Also, letting the mental of toto go into a few more measures would have made it a bit more interesting but on the other hand the loop you chose gives it a trance feel.
Ok I'm done blabbing...I've downloaded it and will probably use it live somewhere as I think it's fun and can see some girls gettin' low low low out on the floor on this one
---
Return to Submit Mashups <HERE>
Users browsing this forum: No registered users and 74 guests