Moderators: g4gorilla, G3RSt, Rick Lee, pomDeter, DylanVasey, DRA'man, DJ Morgoth, Colatron, GenErik, lloyd
Posts: 3316
Joined: Sat Jan 02, 2010 11:52 am
Location: London, England
A few people I know do that and it seems to work well for them. Easiest thing to do is Google the chords of the track you want to match. Most tracks are available.
---
boris wrote:

Eddie Pedalo wrote:there is nothing wrong with your ears jarrod, research has proven tonedeafness is a myth, all music fans have good pitch recognition. if someone has no sense of pitch they would have no interest in music, and people who go as far as to make music, usually have a great sense of pitch, they may not know it though, its 10% pratice, 90% confidence.


so explain why some people cant tell when their mashups are OOK
For me as a muso for over 20 years I certainly don't think i'm tone deaf but the reason i'm finding out why tunes are OOK for me anyway is the fact that you are constantly playing and replaying your song while your editing etc to the point where you've convinced yourself that it sounds alright.
---
Posts: 97
Joined: Sun Jan 03, 2010 4:35 am
very true, thats why its always a good idea to finish your tune, not listen to it for a day or 2, then listen to it with fresh ears before you torture the rest of us with it.

getting the opinion of a second pair of ears is also a good idea, so email all of your badly out of tune mashups to dylanvasey@.......
---
Man ive tortured him enough already
---
OK, I had a thought that in a mashup you wouldn't always need to match keys if you could harmonize the acapella(s) with the track.
Example might be (not sure if this would be correct or wrong?) mental is in C#, pella1 is in E and pella2 is in G#.
Just curious if anyone has tried this yet or if I'm just dreaming here? I know squat about harmonizing but found a couple tips on the net but not sure if they will help or not as they tend to confuse me more!
Learning to Harmonize
http://guitarsecrets.com/harmonizing.htm
Harmonizing the major scale -
http://www.zentao.com/guitar/theory/chord-scale.html
Thoughts? Any example mashes posted that harmonize?
Last edited by
RockstarBruski
on Fri Jun 25, 2010 5:51 pm, edited 1 time in total.
---
Thanks to Flashard for pointing me to this Mixedinkey program tutorial.
Tutorial: "Harmonic Mixing using Camelot Notation"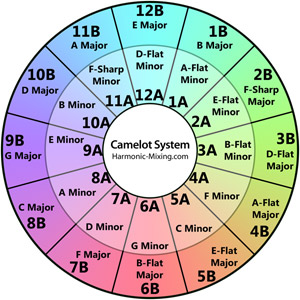 Harmonic Mixing is an advanced technique used by top DJs all over the world. By mixing tracks that are in the same or related keys, harmonic mixing enables long blends and mash-ups. The goal is to eliminate key clashes.
Harmonic mixing consists of two elements: knowing the key of every song that you play and knowing which keys are compatible.
To get started, use Mixed In Key software to analyze your music. Launch the latest Version 4.0, click "Add Files" and Mixed In Key will automatically scan your MP3 and WAV files. It will detect the key and BPM of every song.
The First Mix
To help DJs learn harmonic mixing, Mark Davis created the Camelot wheel, a visual representation of which musical keys are compatible with each other:
On the Camelot wheel, each musical key is assigned a keycode number from one to twelve, like hours on a clock.
For the first mix, we recommend mixing two songs that have the same keycode, like 8A and 8A. This will sound like a professional mash-up made in the studio, even if you are mixing on live DJ equipment.
Moving Around The Wheel
Most professional DJs move around the Camelot wheel with every mix.
For a perfect mix, choose a keycode within one "hour" of your current keycode. If you are in 8A, you can play 7A, 8A or 9A next. If you are in 12A, you can play 11A, 12A or 1A. This mix will be smooth every time.
You can also mix between inner and outer wheels if you stay in the same "hour." For example, try mixing from 8A to 8B, and notice the change in melody as you go from Minor to Major.
Our Recommended Approach
We recommend going clock-wise or counter-clockwise around the wheel, changing key every couple of songs. For example, we may play: 10A > 10A > 10B > 9B > 8B > 8A > 7A > 6A for a 100% harmonic DJ set. It never gets boring because there is a music progression happening during the entire mix.
Summary
Scan your files with Mixed In Key. Use the Camelot Wheel to pick compatible tunes. Mix them on your favorite DJ equipment. Result: Harmonic Mixing.
more info at:
http://www.mixedinkey.com/HowTo.aspx
---
Beware Bruce - the MIK harmonic mixing wheel won't address your original question. The idea behind the harmonic wheel is that you mix between tunes during beats / minimal instrumentation, not when there's melodies etc, so you get a smooth gradual progression.
Try playing two songs that are next to each other "harmonically" on the wheel, and it'll sound ook.
Speaking form first hand experience - when i first came across that wheel i misunderstood it and tried making mashups using tunes with keys next to each other as per the wheel and they were AWFUL.
There's a difference between
mixing
harmonically over time, and having things play at the same time, in
harmony
...
Just thought i'd pass that on.
Have you seen this -
http://www.djprince.no/site/Mixing_Tips/default.aspx
---
Hmmm, thanks Garagara! I didn't think of it that way and I hadn't seen that tutorial you provided the link to - very good!
So, what is the tutorial saying in this
http://www.djprince.no/site/Mixing_Tips/default.aspx
(then click on the harmonic overlay chart link on the left of that page) Are they saying you can mix at the same time in those keys that match harmonically or?
---
of course there's always those things that are stuck on the side of your head
---
to be honest, i don't really know mate. i'm not a dj so i gave up reading all that stuff. someone technically better than me will need to explain it. either that or i tried to make it work and faileed, but it didn't work for my mashups, i can tell you that.

Boris is right, there's no substitute for ears. and what the MIK info doesn't tell you is it's about 80% right, so 1 in 5 tunes is still gonna be out and if you rely solely on it then 1 in 5 bootlegs / mixes is going to be wrong.

but all the tools help i guess
---
Return to Mixing Tuts and Stix Support Center
Users browsing this forum: No registered users and 1 guest