A new site for creating Acapellas for FREE
Just wanted to tell you about this new site:
https://melody.ml/
It's an easy way to use the "Spleeter" tool by Deezer.
It uses artificial intelligence to separate any song to 4 tracks: Vocals, Bass, Drums and the rest.
To use this site just enter an email address and upload an audio file to split.
From what I tested, the results are pretty impressive.
It's basically like PhonicMind but free (and better in my opinion)
---
Testing it now...
EDIT: YES! It's way more effective than PhonicMind
When silly crosses serious...

Gladi

Lord

is always near.
---
Testing it with a reggae track: Dillinger - Cocaine In My Brain (long version 5:11)
Split it in four stems: acapella, bass, drums, other.
Before you upload an MP3 (no WAV it seems), you have to supply an email adress.
They say for the downloadlink, but you can download from the website.
A left (!) mouse-click gave me a zip-file with gibberish name and four MP3-files in them, all 12.5 MB, my original was 11,9 MB.

I am impressed. Drums have 'no' vocals. Vocals do sound 'filtered' but not in the awfull DIY phase cancel way.

It is also possible to split in acapella and instrumental. I will try that tomorrow.
---
A tip for those who will use this more often:
Before going into this "free" isolator (and by that, I mean "until it gets shut by some picky copyright company"), make sure to have the track already DIY'ed on a DAW software (Audacity would be the best in most cases) that can use kn0ck0ut VST, in order to ease the artifacts' mitigation when the conversion starts (this happens best if only drums, bass and vocals from the pretended music are on the same audio track and AS STEREO);
After isolating with this website, make sure to EQ the vocal stems obtained, in order to get a clearer instrumental isolation. This PERFECTED DIY/ALMOST STUDIO isolation can be done with this method:
- Presuming that you have the Vocals as nearly close to the Original Track as possible, align both until they're perfectly synchronized;
- Separate both tracks into stereo sides and swap the order of those, in order to get the OT's on the LEFT side and the vocals on the RIGHT side. Reunite the sides as 2 new stero tracks with that said properties;
- (HIGHLY RECOMMENDED, but still optional, and for Audacity users) Do this sequence of procedures:
Copy the tracks/cut the tracks/erase the empy tracks by cut/create new empty stereo tracks/paste on those empty stereo tracks
This will prevent possible software bugs from compromising the isolation;
- Select a stereo track, open kn0ck0ut, ajust the needed nitpicks, and apply the isolation (note: it will only affect the LEFT side of the track and letting the RIGHT side empty, hence the previous steps being necessary. It must be done one track at a time);
- After both tracks isolated, spearate them again into sides. Cut the empty waves, joint the isolated ones into one final stereo track;
AND VOILÁ! You have a very high quality isolation made in some few simple steps!
Hope this is useful for future tracks :D
When silly crosses serious...

Gladi

Lord

is always near.
---
To add to Gladilord. I understand he does this process first for the left, then for the right of the acapella. The VST always subtracts the R-channel from the L-channel, so they have to be in that order. And you need to do it two times.
And then Gladilord combines the cleaned sides to a new stereo track.
The magic voice isolator plugin exists !! and it's free.
Kn0ck0ut (zero, not 'oh') VST plugin is a free vocal isolation plugin, based on the spectral substracting principle. It takes two inputs : voice+instru on left and instru only on right and it performs a FFT processing for removing the instrumental part. A sort of acapella maker !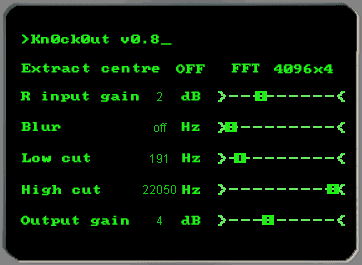 if 'extract centre' is off:
the plugin assumes two mono inputs in the form of a stereo signal - one hard-panned left and one hard-panned right. Frequencies present in the R-channel signal are subtracted from the L-signal in proportion to their amplitude + the result is returned on the L-channel.
---
Users browsing this forum: No registered users and 17 guests