Triple Eh Mashers - Intergalactic Trip Vol.1 (Mix-Tape) *DL
Posts: 17
Joined: Fri Nov 14, 2014 7:00 pm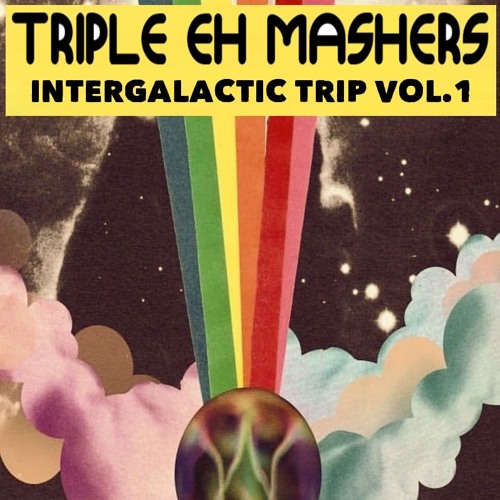 Triple Eh Mashers
Present:
Intergalactic Trip Vol.1
https://soundcloud.com/triple-eh-mashers/triple-eh-mashers-intergalactic-trip-vol1-mix-tape-master
Intergalactic Trip is Triple Eh Mashers Second Mix-Tape. Unlike the first (Universal Instruments) mix that had a more classic & timeless feel, this mix is more based around Tempo Switches, Electronic Remixes, Mash-Ups & Original Tunes from many different era's. These Triple Eh Mashers mixes are more of a musical journey than just a mix-tape. They are made for people that enjoy all types of music & for people that just need something a little different in there life.
Thanks For Listening & Travel Safely !
Types of Music on this mix:
Synth- Pop, Disco, Soul, House, Drum & Bass, Reggae, Pop, Hip-Hop, Drum Step, Funk, Electro, Breaks, Grunge Rock, Ghetto Funk, Roots Rock, P-Funk, Dance +more
Artists on this mix : (in order as played)
Yello, Anita Ward, Aretha Franklin, Technotronic, The Four Tops, Dj X Mind, Torro Torro, Killagraham, Danny Byrd, Deekline , Ed Solo, Buju Banton, Dido, Lewd Behaviour, The Prodigy, Phibes, Saxxon, Gang Starr, Plan B, Doctor P, Chuck B, Triple Eh Mashers, Roxette, The Isley Brothers, Dj Maars, Dj Shepdog, Mobb Deep, Charles Wright & The Watts 103rd Street Rhythm Band, Dreadsquad & RDX, Method Man, Mr. Vegas, Ying Yang Twins, Tittsworth, Deee-Lite, WBBL, Route 94, Prince Club & Poupon, Al Green, DANK, Daft Punk, Lo IQ, Frenic, Salt n Pepa, Mr. Oizo, Kendrick Lamar, Neon Steve, Busta, Nirvana, Dave Gerrard, Parliament, Stevie Wonder, JPOD, Basement Freaks, Heights Appear, Cypress Hill, Candi Station, CCR, JaPetto, J5, Kool & The Gang, Juice, Zapp, X-Ray Ted, Marvin Gaye, Fort Knox Five, Three Dog Night, C+C Music Factory, Duke Slammer, Rick James, Herman Kelly & Life
TRACK LIST:
1. Yello - Oh Yeah
2. Anita Ward - Ring My Bell
3. Aretha Franklin - Think (SFS Edit)
4. Technotronic - Pump Up The Jam
5. The Four Tops vs DJ X Mind - Can't Help Myself
6. Torro Torro - Go Deep (Killagraham DnB Edit)
7. Danny Byrd - Ill Behaviour ft. I-Kay (VIP)
8. Deekline / Ed Solo - Champion Lover
9. Dido - Thank You (Lewd Behavior Remix)
10. The Prodigy - Voodoo People (Phibes Remix)
11. Saxxon - Above The Clouds (Bootleg)
12. Plan B - Love Goes Down (Doctor P) Chuck B Edit
13. The Isley Brothers & Roxette - Between The Sheets (Triple Eh Mashers Remix)
14. DJ Maars - This Ain't No Sunshine
15. DJ Shepdog - Shook Life
16. Charles Wright & The Watts 103rd Street Rhythm Band - Express Yourself
17. Dreadsquad & RDX vs. Method Man - P.L.O Style (Sista $ensi Smoker Rfx)
18. Dj Shepdog - MCs Act Like They Don't Smoke
19. Ying Yang Twins / Switch - Jigglin' (Tittsworth Edit)
20. Deee-Lite - Groove Is In The Heart (WBBL Silly House Edit)
21. Route 94 - My Love (Prince Club & Poupon "PCP" Edit)
22. Al Green - Let's Stay Together (DANK Remix)
23. Daft Punk - Doing It Right (Lo IQ Remix)
24. Frenic - Salt n Pepa vs Mr Oizo
25. Kendrick Lamar - Backseat Freestyle (Neon Steve)
26. Buster - Nirvana Heat
27. Dave Gerrard - Rip Up The Funk
28. Stevie Wonder - Sir Duke (JPOD Remix)
29. Basement Freaks - Insane Brains feat. Heights Appear
30. Candi Staton - You Got The Love (WBBL Remix)
31. CCR - Bad Rump Rising (Triple Eh Mashers Rump Shaker Mix)
32. JaPetto - I Wanna Humpty Dance
33. Kool & The Gang - Ladies Night (Juice Drum Edit)
34. Parliament - Aqua Boogie
35. Zapp - So Ruff, So Tuff
36. Marvin Gaye - Let's Get It On (X-Ray Ted Edit)
37. Fort Knox Five vs Three Dog Night - Mama Told Me (DC's Finest Remint)
38. C+C Music Factory - Gonna Make You Sweat
39. Rick James - Cold Blooded (Duke Slammer Edit)
40. Herman Kelly & Life - Dance To The Drummer's Beat
Mixed By: Triple Eh Mashers
Mastered By: Paradigm Theorem
PLEASE LIKE & FOLLOW US ON OUR BRAND NEW FB ARTIST PAGE HERE:
https://www.facebook.com/tripleehmashers/
---
Users browsing this forum: No registered users and 2 guests