Sinead going under black betty (WT. x Evanescence x Ram Jam)
Posts: 701
Joined: Sat Jan 04, 2014 10:54 pm
Location: Bad Wimpfen, Southern Germany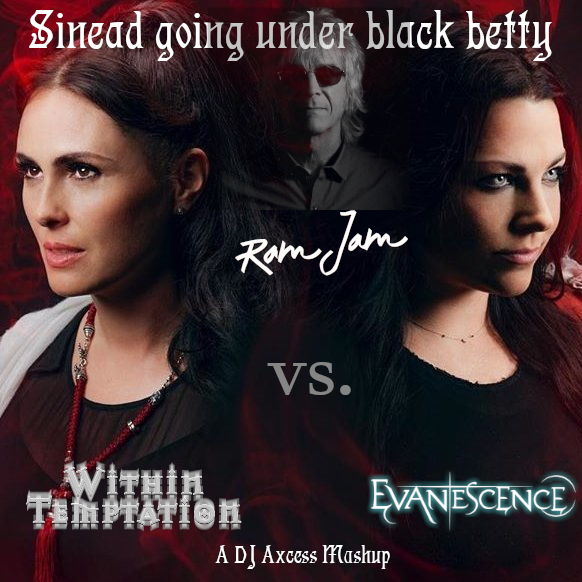 Title: DJ Axcess - Sinead going under black betty (Within Temptation vs. Evanescence vs. Ram Jam)
Source 1: Within Temptation - Sinead (Instrumental & Original)
Source 2: Evanescence - Going under (Acapella)
Source 3: Ram Jam - Black Betty (Acapella)
Download link
Finally found a few minutes (hours) to work on something else here again.
Going to move to a new apartment here the next few weeks and then probably will find a bit more time for mashups again. But I hope you still like it. ;)
There's a little teaser in the video, if you watch long enough. Want to know more? Text me. ;)
---
Turn up the Ram Jam vocal as it gets kind of lost in the instrumental, Besides that this is a wonderful mix.
---
What is the video from? A movie? A game? Thank you.

BTW, I think this mashup is excellent. I can't find fault with it.
---
Posts: 701
Joined: Sat Jan 04, 2014 10:54 pm
Location: Bad Wimpfen, Southern Germany
@TheRayMan: Thanks for the nice words. Not sure if I want to increase the volumes of the vocals much more, but I'll experiment with the audio a bit more. The video is going to youtube tonight. :)
@Quagga: Welcome to Mashstix and also thanks for the comment.
The video is from a trailer of the game "Star Wars - The Old Republic":
https://www.youtube.com/watch?v=8Do48nPqLGU
I just re-arranged it a little bit to better fit the track. ;)
---
Return to Submit Mashups <HERE>
Users browsing this forum: No registered users and 78 guests