Mashstix Mash-off #67 - The big screen**SMASH wins !**
Mashstix Mash-off #67 - The big screen
The October mashup challenge could easily be having a halloween theme, but i guess that's been done before.. right?
However you can still make one if you want, just pick the right movie...
Being involved in the movie&film industry here in Norway i must pick my theme accordingly.
So let's cut to the chase (movie phrase).
All you have to do if you accept this challenge is to make a Mashup containing at least one piece of music that is written specifically for a film (instrumental or vocals, that's up to you.)
If you would like to make a video mashup as well ? It be great hence the theme, but not required of course.
There should be plenty of music to choose from i think, for instance all the James Bond movie theme songs are made specifically.
And here is a list from businessinsider.com to name a few;
https://www.businessinsider.com/the-best-original-songs-from-movies-2016-7?r=US&IR=T&IR=T
I hope you all get creative and bring me the most Epic Movie Mashups the world has ever heard!
The best of luck to you all
Legato
THE 5-STEP DESCRIPTION:
At the start of every month, the (newly entitled) Emperor of MashStix posts a thread containing details of the challenge, for Example: 'Mashups 90bpm or slower with the theme of love'. They should also include the '5-Step Description' and the 'FAQ'.
The post will then shortly be stickied to the top of the 'Submit Mashups' section for all to see and respond to with their entries. Entries must be in by the 20th.
A vote will be created within that thread for everyone to vote on who should win and become the new Emperor (the vote can be created by the current emperor so please don't wait for a mod to do it as we are a busy people)
On the 27th (or until the last day of the month at the current emperor's choice) the poll shall end and a the new emperor will be chosen.
The winning track will then be featured on the Frontpage!
FAQ:
> How should I post my mashup?
Entries are to be posted in the thread using the players in the same way as you would on the main mashstix board (i.e. via Dropbox, hearthis, soundcloud or your own webspace), including details of the tracks used.
> Can I use a mashup that I've made previously?
No, that would be cheating!
> What if there is a tie!?
All ties will be settled by the Emperor (sounds like a worthy title now, doesn't it?)
> I didn't win, what can I do with my mashup?
If you are particularly proud of your mashup but didn't win then feel free to post your mashup in the 'Submit Mashup' section as you ordinarily would.
> What do I do if I'm confused??
PM 'DJ Firth' or another mod if you notice they are active
> So the Emperor get's to choose the next challenge and settle tie breakers, anything else?
The Emperor will attain limitless glory for all of eternity (and bragging rights)[MP3PREVIEW][/MP3PREVIEW]
Last edited by
Dj-Legato
on Wed Oct 31, 2018 3:31 pm, edited 5 times in total.
---
I like it. There are a lot of songs that can be used for this contest.
---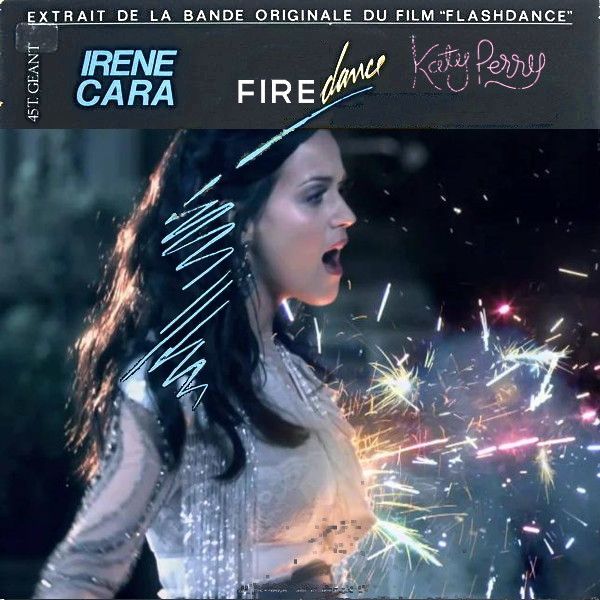 Warezio - Firedance (Irene Cara vs. Katy Perry)
Irene Cara - Flashdance
Katy Perry - Firework
It's pretty!
Version 1:
Version 1 download link
---
Wow! Thank you for the first contribution Warezio, i like it
Now others must follow, the countdown has started
---
satis5d:

St. Elmo's Firework

(David Foster vs. Katy Perry)
In a case of one of the worst movies ever made paired with one of the best soundtracks, I present the Love Theme from
St. Elmos' Fire
from 1985 paired with Katy Perry's signature track, Firework. The fact that the titles work so well together is pure bonus.
David Foster - St. Elmo's Fire (Love Theme)
Katy Perry - Firework [acapella]
Download here
---
And I'm just noticing that I picked the same freakin' song that Warezio worked with.
Aye-yi-yi!!
---
Posts: 3390
Joined: Wed Apr 15, 2015 8:18 pm
Location: Los Angeles
When Doves Cry By Your Side (Prince vs. Me & My Toothbrush)
V1
DOWNLOAD
When Doves Cry By Your Side (Prince vs. Me & My Toothbrush)
Mashup of:
Prince - When Doves Cry
Me & My Toothbrush - Right by Your Side
---
Killer mashup, HCD. I love it!
I'm curious about which movie the music was made for.
---
satis5d wrote:I'm curious about which movie the music was made for.

With Purple Rain, Prince made no distinction between making an album and making a movie (soundtrack). Apparently it is
#3 in all-time sales for movie soundtracks
. (#1 and #2 are "The Bodyguard" and "Saturday Night Fever", perhaps we can expect some entries utilizing those.)
---
I'm curious about which movie the music was made for
I didn't have to Google this one.., but i did just to be sure
"When Doves Cry" Was written by prince for the movie Purple Rain.
One of my favorite musical movies from the early 80`s I still remember when my uncle got this on laserdisc! Before that it was all VHS..
Thanks for all the contributions so far, i like em all
We still got 2 more weeks to go!
Hoping for more Epicness to come
---
Return to Submit Mashups <HERE>
Users browsing this forum: No registered users and 31 guests