[EXPLICIT] Sawyer Stir Fry (Migos vs. Rush)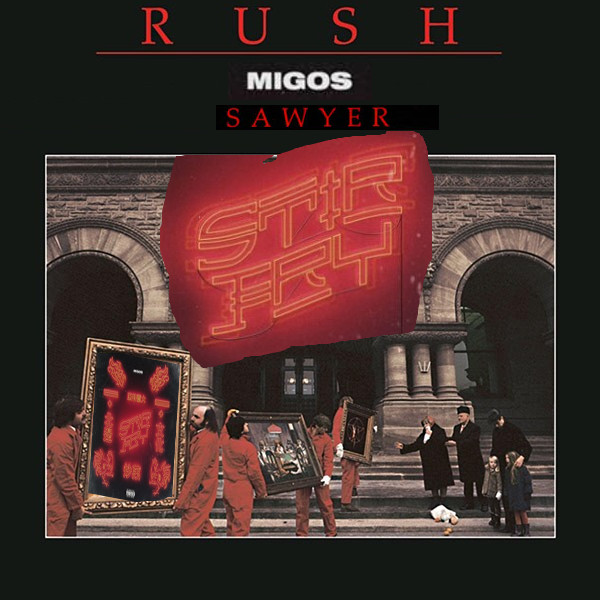 Warezio - Sawyer Stir Fry (Migos vs. Rush)
Migos - Stir Fry (acapella)
Rush - Tom Sawyer (stems)
Who needs an 808 when you have Neil Peart.
(I honestly don't know what counts as explicit nowadays, but I wouldn't play this for my kids.)
Version 1: (shorter; verb; timing; spectral tweaks)
Version 0:
Version 1 download link
Last edited by
Warezio
on Sun Apr 15, 2018 8:43 am, edited 1 time in total.
---
Posts: 127
Joined: Tue Mar 01, 2016 3:51 pm
Location: Ocean City, MD
First off, it did make me laugh (in a good way). With my rock mashups and stuff, I can definitely use something like this at a gig this summer.

As far as critique, I would add a lot more effects to the vocals, especially reverb. Some key issues seem to happen (then again, I don't know if Migos were even in key when recording it). Did you add the delay parts and scratching? Sounding like the bass needs to be rolled off a bit on the scratching. "In the kitchen" part I like, but seemed to get a little off time. Maybe bring the track down a bit in length as well.
---
Interesting, not exactly my cup of tea, but almost sounds like an original
I agree with Adam, some reverb will might help here. I also noticed the timing issue on that section in the middle, start at 2:41 (I think "In the kitchen" part at the end is OK, not sure
), and I have the same thought about the length
---
Version 1 posted reflecting feedback so far.
---
Posts: 3328
Joined: Wed Apr 15, 2015 8:18 pm
Location: Los Angeles
Everything is clear and in key but when it comes to hip hop I pay close attention to the syncopation pairing. I feel that this paring doesn't work as well as I'd like because the vocals never sit in the pocket. They have a floating "mashup" sort of feel that is preventing my recommendation. Normally, I would just recommend moving them earlier or later but I think these two have completely different accenting which will prevent them from ever locking properly.
---
These two sources don't compliment each other well enough IMO.
---
Return to Submit Mashups <HERE>
Users browsing this forum: No registered users and 42 guests