[FP] TNT Woman (Kesha vs. Many)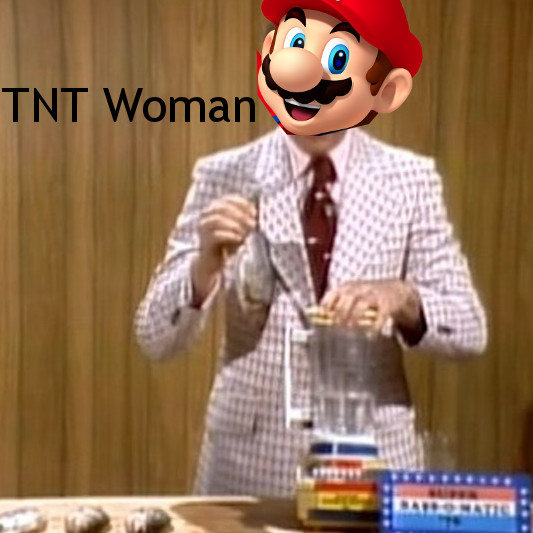 Warezio - TNT Woman (Kesha vs. Many)
Kesha ft. The Dap-Kings Horns - Woman (acapella)
The Presidents of the USA - Lump (drums)
The Beatles - Helter Skelter (guitar)
AC/DC - T.N.T. (guitar, oy)
Filter - Hey Man, Nice Shot (bass)
The Who - Eminence Front (synth, guitar)
The Rolling Stones - Gimme Shelter (guitar)
Another Frankensong attempt.
Version 1: (intro, first solo extend, mix tweaks)
Version 0:
Version 1 download link
Last edited by
Warezio
on Thu Mar 22, 2018 8:04 pm, edited 1 time in total.
---
Sweet...The school bands now at it's 5th year anniversary gig, definitely about to graduate into the major leagues :)

maybe some slight timing issue around 37 seconds as it feels like the guitar solo does quiet follow the bass n drums, but only for like the last 2 notes.

Maybe 2:02 the vocal flute bit doesn't resolve bang on the next section dropping in...maybe

...and I hear nothing else - man u learn fast. gr8 sounding mash I forgot it was a Frankensong instrumental Mash from the get-go, maybe a live performance by a really tight band \o/
---
Posts: 3330
Joined: Wed Apr 15, 2015 8:18 pm
Location: Los Angeles
That's pretty good man. I agree with Sgt's notes about the clean up but I'm sold on the idea.
---
This is really impressive, Warezio!
As a mashup artist myself, I listen to this and think, "This is the future of mashups...taking the stems from different songs and making a new song using different instruments from completely different artists." But then I pause and think, "but I'm already having issues with my audience recognizing the songs that I'm blending together unless I mix some of the most popular songs of all times or something that's currently getting lots of airplay." Will anyone but other mashup artists even recognize the original songs with a mix like this using the various stems. I have to admit that while I enjoyed this production a lot, I couldn't pick out all of the different guitar riffs from those sources. This may be too "insider" for my audience to grasp.
As far as the technical issues go, I felt like there was a stutter-step of sorts happening just before 0:40 but that was all. I could FP this as-is, but I'll wait to see if you want to try smoothing that little section out first.
---
satis5d wrote:This may be too "insider" for my audience to grasp.
Yes, I think for most of the audience. For a stem-salad to really work it has to create a new standalone appeal and then encourage the listener to discover all the pieces. I'm not that good at it (yet!). My "north star" here is Popalicious by Robin Skouteris, I'll keep aiming for it!
satis5d wrote:I'll wait to see if you want to try smoothing that little section out first.
I would like some time to iron out the wrinkles on this one. Lots of RL interrupts now.
---
Posts: 187
Joined: Wed Jun 28, 2017 3:34 pm
Location: UK
I feel like it starts a little too abruptly. Perhaps work in an 8 beat intro to ease the track in.

Other than this, top notch work again :)
---
A great catalog of sources and another ambitious concoction of yours, warezio!

I do feel the whole thing lacked some punch and clarity this time…the drums seem a bit low in the mix, the AC/DC guitars could maybe use a treble boost for clarity, and the Filter bass had too much, well, bass, and not enough clarity.

The intro wasn't a problem for me. The timing and phrasing of the Stones' guitar solo seemed off, but that often seems to be something that bothers only me, so take me with a grain of salt on that.

It's also a bit on the short side, but you leave us wanting more, which isn't a bad thing!
---
Unique! I like the concept
Overall I enjoy it, nice use of each instrument. As said, your mix needs a bit of EQ touch, I've nothing to add, looking forward for the next version
---
Version 1 posted, incorporating totality of feedback. Thanks everybody!

(The vocal flute, I'm kinda stuck with it, since it is embedded in the acapella)
---
It's going to the Front Page!
---
Return to Submit Mashups <HERE>
Users browsing this forum: Exabot [Bot] and 43 guests